Skip to Content
Trusted Residential Roofing Experts in Dallas – Fort Worth, TX
Whether you're dealing with small leaks, storm damage, a total roof replacement or  just need a roof inspection, you can trust the team at Structured Roofing Systems and our residential roofing services. We're the leading residential roofing company in Dallas – Fort Worth, TX, and we've set ourselves apart by focusing on our customer's experience. We have a knowledgeable and experienced team with the skills and expertise to handle almost any roofing issue. When it comes to your home, your roof's health is essential to keeping you and your family safe and protected from outside elements. Keeping up with maintenance and using quality roofing materials is a vital part of that process. Call us to schedule a free inspection today if you need roofing repairs or think it's time for a roof replacement.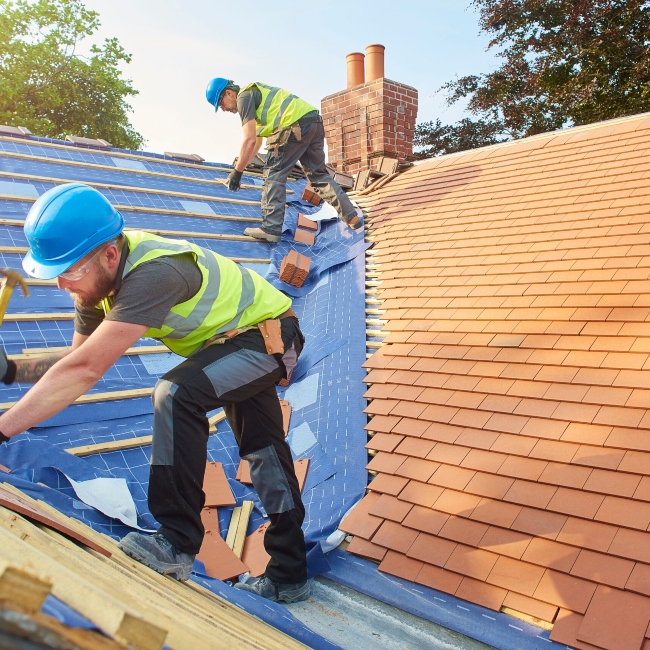 Our Residential Roof Services
Structured Roofing Systems are specialists in residential roofing services. Whether you need a full roof replacement, roofing repair, or simply help with your gutters and downspouts, we have the skills and experience to handle any job quickly and efficiently. On top of that, we're happy to work with any and all insurance companies and will even help you navigate the insurance claim process. We're proud to offer a variety of residential roofing services that can provide solutions to your problems:
Explore Our Roofing Repair Services
If your roof has damage from storms, invasive vegetation, algae growth, holes, or countless other reasons, it's time to call on our professional team of roofing specialists. The average lifespan of a roof in Texas is approximately 12-20 years, but in order to extend or protect its lifespan, we recommend keeping up with any repairs, helping protect your most significant investment. Your home will eventually sustain damage; regardless of the cause, our team is ready to inspect the roof and provide a long-lasting repair plan using only the highest-quality materials. Here are some signs your roof may be in need of repairs:
Sagging Roof – If you notice your roof is sagging, you should call our team of roof repair experts right away. The sagging could be due to excess weight on your roof (such as too many shingles), water damage to critical areas, or even weakened roof structures. Regardless of the cause, we'll help restore your roof's integrity.
Water Leaks –If you notice water leaking through your roof or attic after a rainfall, you need roof repair. The water could be getting in through holes or cracks in your roof. We'll find and correct the underlying reasons and stop the leak entirely.
Damaged Shingles – Missing, broken, curled, or dented shingles are a sign that you need your roof serviced. Most of the time, broken, bent or dented shingles can be repaired, but missing or heavily damaged shingles must be replaced.
Mold, Algae, or Other Growths – Discovering mold, moss, or mildew on and around your roof indicates that your roof needs professional help. Any growth rots roofing materials, leading to other, more expensive issues.
We Offer Complimentary Roof Inspections
As we've mentioned, your roof does a great job of protecting your family from the elements and any severe weather. Keeping your roof in great shape will ensure it can keep you safe. Our team understands the importance of being proactive, as regular inspections enable you to think ahead about repairs and plan your budget better. Ongoing routine roofing inspections twice a year can help identify problems before they get worse. When our professional team performs our complimentary residential roof inspections, here are some of the things we look for:
Hail damage
Wind damage
Broken, Missing, and Cracked Shingles
Improperly Installed, Bent, or Rusted Flashing
Peeling or Cracking Sealant
Granule loss
What Are the Benefits of Our Residential Roofing Services?
A roof is one of, if not the biggest, investment you must consider as a homeowner. We understand that a new roof can significantly  impact your bank account. Trusting the right roofing contractor to handle the job can make all the difference. Our team has the experience and expertise to handle everything from repairs to total roof replacements. Furthermore, our work comes with a lifetime workmanship warranty. The Structured companies are fully insured  and have repaired over 31,000 homes in the Dallas – Fort Worth, TX, area. Here are some additional benefits of choosing our all-services roofing company:
Safety First – One of the biggest dangers when installing a roof is the risk of injury. Our professional roofing crews take all the necessary safety precautions and use the latest equipment to make sure they are as safe as possible when installing your roof. They're also covered by Structured's workers compensation policy, something practically unheard of in the industry.
Access to High-Quality Materials – We have relationships with the top suppliers in the Dallas – Fort Worth area. This means we can access high-quality materials and products that we trust and recommend.
Help with Permits and Paperwork – Installing a new roof is a big job, often requiring a local government permit. Because this can be a frustrating process, We also get all the necessary permits for the job, meaning you don't have to wait long for your new roof to be installed.
We Offer Warranty and Support Services – When you hire us as your roofing contractor, you can rest assured that you'll have access to our lifetime workmanship warranty. On top of that, we're aware of any warranties regarding roofing materials. You can count on our team to be there whenever you need our help.
Know Your Roof
Learning about your roof, replacements, and repairs can be an overwhelming experienceand keeping all the parts in mind can be confusing. We want to ensure all our customers have as much knowledge as possible. So that you can feel completely confident when we go into the roof replacement process, here is a list of all the major main parts of your roof:
Chimney – This is the pipe through which smoke or gas goes up into the air, usually through the roof of a building.
Gutter – Gutters are shallow troughs fixed beneath the edge of a roof. These are vital as they help divert large amounts of water off your roof and away from your home.
Valley – A hollow resembling or suggesting a valley, as the point at which the two slopes of a roof meet.
Chimney Cap – A cap or cover for your chimney. They're designed to help keep animals and rainwater out, block downdrafts and debris, and help stop sparks and embers.
Vent Stack – Vent stacks are openings designed to convey air, heat, water vapor, or other gas from inside a building to the atmosphere.
Attic Vent – As its namesake, an attic vent is a critical part of your attic circulation system that replenishes fresh air throughout your attic space.
Ridge Cap/Vent – A ridge cap is a covering applied over the ridge of a roof, and a ridge vent is a vent located at the ridge that allows the escape of warm and/or moist air from the attic.
Fascia – Fascia is the board that's that are nailed to the ends of a roof rafter. They can also support gutters.
Soffit – The exposed underside of an exterior overhanging roof section.
Counter Flashing – The flashing is used to weatherproof or seal roof system edges at perimeters, penetrations, walls, expansion joints, valleys, drains, or any place where the roof covering is interrupted. Counter flashing is a simple strip of sheet metal designed to fit into a vertical wall of masonry and bent down over the flashing to make it watertight.
Hip– This is the material or covering applied over a hip roof's ridge.
What to Know About Your Roof Replacement?
You home will inevitably need a total roof replacement. Whether caused by storm damage, normal wear and tear, or accidents, it's essential. We'll help you understand the potential warning signs, including the age of your roof and when repair costs exceed the value of your roof. The residential roofing experts at Structured Roofing Systems have the expertise and skills needed to provide you with a new roof made from  high quality materials, such as asphalt shingles, metal roofing, tile, or even slate. We aim to provide you with the best and most cost-efficient services to meet and exceed your needs.
Why Choose Structured Roofing Systems
When you're looking for the right roofing contractor, there are several factors you should consider. You want a company staffed with quality, skilled, and experienced roofers and office staff with the skills and drive to take care of any issues, work with you to help fill out insurance claims, and provide unrivaled customer service. We're a local company serving the Dallas and Fort Worth area and have repaired over 31,000 homes.  We offer no-cost and no-obligation roof inspections and a workmanship warranty on our services. Contact us today to learn more about our residential roofing services.
OUR MOTTO IS "DO THE RIGHT THING"