Skip to Content
We're Your Locally Trusted Roof Repair Company
The last thing any homeowner in DFW wants is to find a water leak or any damaged areas of their home, but you don't have to take on the stress and hassle of repairing your roofalone. Structured Roofing Systems is dedicated to offering unrivaled roof repair services to ensure your roof is dependable enough to keep you and your family safe. Our team has the skills, expertise, resources, and training to repair any residential roof and material. We even have the training to work with your insurance company to help you navigate the claims process. Call us to learn more about our roof repair services or request an inspection or quote.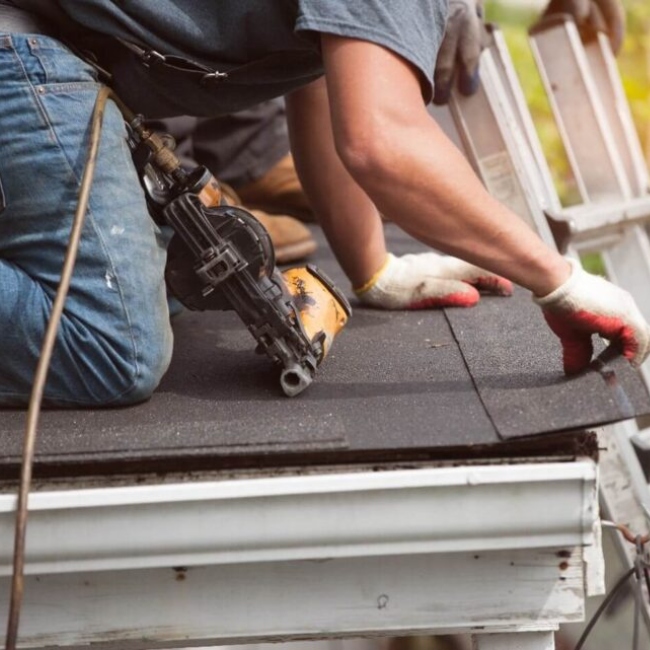 What Roof Repair Services Do We Offer?
Structured Roofing Systems offers roof repairs on all types of roofing materials. Our team provides same-day inspections and can schedule a repair team for your home in just a few days. We understand that roof repairs can be invasive and disruptive. We aim to schedule repairs at the best time for you and your family. Minor damages or leaks can lead to costly repairs if not addressed over time, and Structured Roofying Systems makes the process seamless and easy to ensure your home is watertight.
Here is an overlook at the roof repair services our technicians are qualified to handle:
Roof Leaks
Storm Damage
Wind Damage
Missing, Broken, or Decaying Shingles or Tiles
Holes or Corrosion in Flashing
Emergency Roof Repair
Downspout & Gutter Repair
Signs You Need to Call Our Roof Repair Company
Being able to spot signs that your roof needs repairs can save you much money in the long run. Neglecting a damaged roof can lead to further complications, including mold growth, structural damage to your home, or even damage to the interior of your home. Trust us to keep your roof in good repair and extend its lifespan. We've put together some of the most common warning signs that it's time to use our roof repair services. If you have or suspect you have any of the following, don't hesitate to call our roof repair company:
Sagging Roof – There are several reasons why your roof is sagging. It could be due to old age, an incorrectly installed roof, or water damage. If it's due to water, it could mean your rafters have become damp, eventually weakening the wood. This can lead to structural damage to your home.
Missing or Loose Shingles – High winds and severe storms can loosen and damage your shingles. If you have missing or loose shingles, this can lead to more severe damage if left alone. We highly recommend calling us to repair these issues as it's a relatively inexpensive repair.
High Energy Bill – When your roof works as intended, it'll work hard to keep your home cool in the summer and warmer in the winter. When you notice that your energy bill is higher than expected, it could be a tell-tale sign that your roof needs some work done.
Discolored Roof or Shingles – Discoloration is a sign that water damage is present in some form. Dark patches on your roof could indicate that mold has started growing on or below your shingles. Call our roof repair company for a quick and complimentary roof inspection if you notice any discoloration.
Take Advantage of Our Roof Repair Services Today
Damaged or leaking roofs require immediate attention to prevent problems from getting worse and more costly. If you notice anything unusual, call North Texas's leading roof repair company, Structured Roofing Systems. Our local repair experts will work tirelessly and seamlessly to remedy the situation and restore your roof to like new. We can even help you work with your insurance company to navigate the complicated claims process. Regardless of the issue, we have the solutions you need. Don't hesitate to call us to schedule your roof repairs today.
OUR MOTTO IS "DO THE RIGHT THING"