Skip to Content
Texas' Trusted Roof Replacement Professionals
Your roof is constantly under assault from the elements, wind, hail, rain, the sun, and even little accidents. As time passes, your roof will slowly wear out and eventually need to be replaced. When that happens, Dallas – Fort Worth, TX, residents can rely on Structure Roofing Systems and our unrivaled roof replacement services. Our team has the skills to replace your worn-out roof and specializes in interacting with insurance companies quickly and efficiently. We can help you navigate the complicated insurance claim process to ensure you get the work you need when you need it. Contact us to schedule a complimentary roof inspection and to go over possible roofing materials.
Signs You Need Our Roof Replacement Services
A sturdy roof keeps you and your family safe and comfortable, which is why damaged shingles or algae and mold growth may cause some concerns. Sometimes the need for our roof replacement services is less obvious than a leak or even a catastrophic failure of your roof. There are a wide range of signs that indicate that you are due for a new roof. The team at Structured Roofing Systems can perform a complimentary roof inspection to help you assess any damages and help determine if a roof replacement is needed. Here are some signs to be on the lookout for:
Moss – If you notice moss growing on your shingles, most of the time, it can be washed or brushed away. However, moss holds excess moisture, leading to rot or water damage in your home. When you notice moss, call our team of professionals for help.
Sagging Ceiling – While a sagging ceiling may not appear to be an issue initially, it could indicate leaks in your roof. You can often touch a staffing ceiling, and it has a soft feel consistent with soggy cardboard. These should not be ignored.
Missing, Broken, or Decaying Shingles – Depending on the material used, your roof may start to rot when they've reached a certain age. Over time, this process causes shingles to become brittle and more susceptible to the elements. Missing, broken, or decayed shingles open your roof to water damage and mold growth.
Age – Most traditional roofs are built to last approximately 20 years. If you're unsure of the age of your roof, don't wait for your roof to fail and for leaks to appear. Be proactive and call us for an inspection and to discuss our roof replacement services.
Damage from Pests – Pests and wildlife may try to get inside your home, and when they try to get in, they damage your roof. We can repair small holes once the pest has been removed, but if left alone, the damage will eventually spread and cause further issues.
Water Damage or Water Leaks – Finding a leak in your roof is a significant sign that you need a new roof. Even the tiniest leak can become a more significant problem which can cause damage to your home or even your property. At the first sign of a leak, be sure to call us.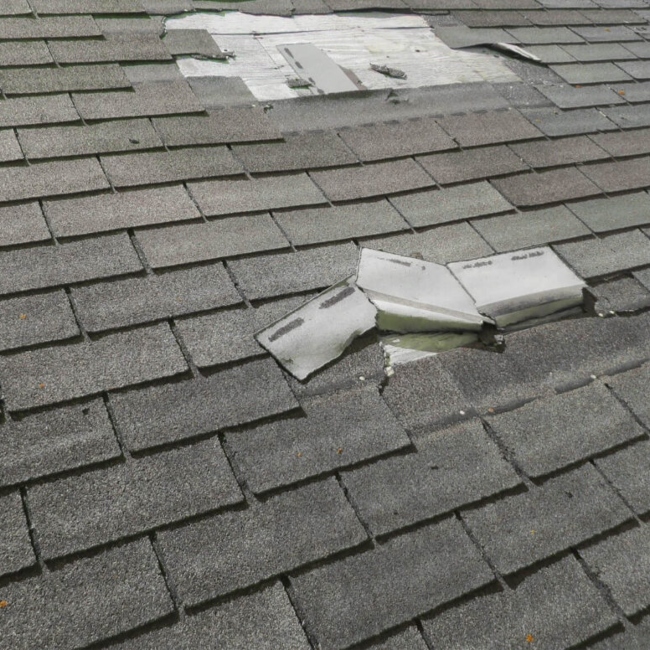 Repair or Roof Replacement?
Understanding the difference between when your roof needs repairs or when it's due for a replacement can save you money while keeping a roof that is not only built to last but can keep you and your family safe. When you call on our team, we can help you avoid putting money into repairing a roof on its last legs. If you find that your roof constantly needs repairs, then at some point, our roof replacement services become the most cost-effective option. Here are some scenarios in which you should consider a roof replacement over roofing and leak repair:
Your Roof Shows Signs of Wear and Tear – The most significant thing to understand is that not all damage is visible to the naked eye. If you're concerned that your roof shows signs of decay, call our team for a roof inspection. We'll help identify any areas of concern.
You're Putting Your Home Up for Sale – If you're in a pinch, a quick roof repair can get you through the next storm season, but if you're planning on putting your house on the market, a roof replacement may be needed. A new roof can significantly increase your home's value.
Always Undergoing Repairs – Repairing your roof over and over becomes a money and time sink after enough time. When that happens, you should look into a roof replacement.
Take Advantage of Our Roof Replacement Services Today
Because your roof is such a vital feature of your home, you deserve one that will offer beauty and protects you and your family. What sets us apart from other Texas roof replacement companies is our dedication to our customer's experience. Whether you need help picking the best roofing material, navigating the insurance claim process, or an inspection to determine if you need a new roof, our team is standing by to help. We strive to use the highest-quality roofing materials and deliver a product that will keep you safe for years while not breaking the bank. To discuss our roof replacement services, don't hesitate to contact us.
OUR MOTTO IS "DO THE RIGHT THING"