Skip to Content
Texas' Reliable Provider of Asphalt Shingles
Whether you're looking to install a new roof or replace old or broken roofing materials, there are several different types of materials available. At Structured Roofing Systems, the leading roofing contractor in Dallas – Fort Worth, TX, we can help you choose the best type of material for the slope, roof complexity, and your home's style. Our team even specializes in working with insurance companies and helps our customers navigate the claims process. Contact us today to schedule a complimentary inspection and review the best roofing materials for your needs. We look forward to helping you.
Why Are Asphalt Shingles the Most Common?
Asphalt shingles are the most common type of roof material used here in North Texas. There are multiple reasons, but the two most common is that they provide excellent protection for your home at an affordable price. Asphalt shingles come in various colors and textures, allowing you to find the perfect style to match your home. On average most asphalt shingles last around 12-20 years before requiring a replacement. Here are the different types of asphalt shingles:
Three Tab – This type of asphalt shingles features three tabs per shingle. Each tab is equal in size, giving you a clean, flat, and symmetrical look. These are one of the most affordable roofing materials and are light and easy to install.
Architectural – These are also known as dimensional shingles and are made of asphalt but feature more distinctive designs to provide architectural interest. Architectural shingles feature multiple laminated shingles, giving them a thicker and more robust design. They come in a wide variety of colors and thicknesses.
Designer – Designer or luxury asphalt shingles are a premium line of shingles. They offer high curb appeal and look like slate tiles, making your roof stand out compared to other asphalt shingles. They're also more extensive, thicker, and durable than traditional three-tab asphalt shingles.
Impact Resistant – Denser versions of the traditional asphalt shingle. They use multiple layers and a thicker, heavier fiberglass base matt, and the shingle's surface contains ceramic-coated minerals encased in water-resistant, high-quality asphalt.
Why Should I Pick Slate Roofing?
Recently, homeowners throughout North Texas have switched to slate roofing materials. Slate roofing is an attractive option that provides an old-world aesthetic with  great durability and longevity. The slate material is nearly permanent, and if well maintained,  a slate roof can last a lifetime. As a natural stone, slate can resist weather without decay while protecting your home. Here are some additional benefits of picking slate roofing:
Energy Efficient – Slate is an energy-efficient material because it is so dense that it can keep your home cooler in the summer. This is due to slate roofing preventing hot air from entering your attic and home, and in the winter, it helps keeps warm air from escaping. Either way, it will save you money on your heating and cooling bills.
Fire Resistant – As a natural stone, slate roofing materials are fire-resistant. Your new slate roof will resist high heat from high temperatures or fire.
Durable and Low Maintenance – Beyond your twice-a-year inspection, you only need to check for loose or broken tiles. Other than that, slate is durable and requires almost no maintenance.
Long Lifespan – If you keep up with inspections and take care of any repairs, it's not uncommon that a slate roof can last up to 100 years. Most asphalt shingles need to be replaced anywhere between 15-30 years.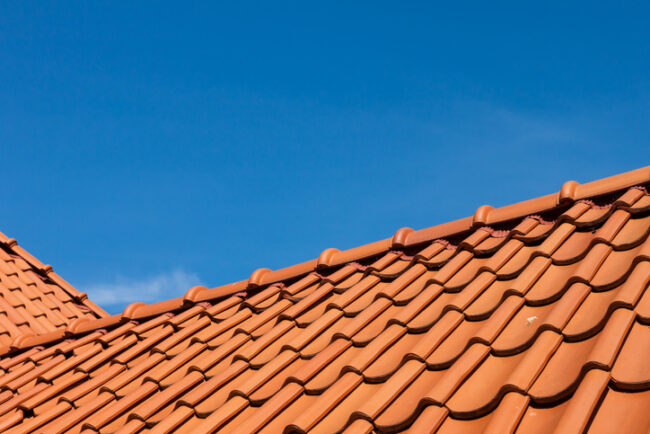 Explore Our Concrete and Clay Tile Options
Concrete and clay tiles are hail resistant against small  to medium-sized hail and provide a unique look. These tiles have been used on homes for nearly 12,000 years. They are extremely wind resistant and do not expand or contract in high heat or humid conditions. Properly caring for concrete and clay tiles can ensure they last as long as 100 years. Different types of concrete and clay tiles include:
Flat
2-Piece Mission
1 Piece S Tile
Single Interlocking Tiles
Benefits of Standing Seam Metal Roofs
Standing seam metal roofs are a great option if you're looking for a durable, long-lasting roof that requires low maintenance costs. Metal roofs can last up to two or three times longer than traditional asphalt roofs because they are more durable and hail resistant than your typical roof. Other benefits:
Energy Efficient – Standing seam metal roof panels reflect solar heat, which helps keeps your home cool during the scorching Texas summer. This can help reduce your home's cooling costs.
Durable – Metal roofs are one of the most durable roofing materials. On its own, metal is highly durable and can withstand the elements. Standing seam metal roofs are incredibly resilient and can handle extreme weather without rusting, coming loose, or leaking.
Lightweight – Your home's roof is designed to handle a tremendous amount of weight, and choosing something lightweight can help your home in many ways. Lightweight roofing materials reduce the amount of stress on your home's structure.
Hidden Fasteners – These are one of the biggest advantages of standing seam metal roofs. Hidden fastener technology protects your roof's fasteners from exposure to UV rays, wind, moisture, and other elements that could cause damage.
Contact Us for A New Roof Today
Structure Roofing Systems is a full-service roofing company with a team that has the skills and experience to handle everything from roof inspections, repairs, maintenance, and even total roof replacements. Regardless of the roofing material we work with, we also work hard to ensure quality workmanship. We even specialize in working with insurance companies and helping customers navigate the claims process. Regardless of your needs, our team will be there to help. Contact us today to schedule your new roof installation or to ask any questions you may have. One of our knowledgeable representatives will be standing by to help.
OUR MOTTO IS "DO THE RIGHT THING"