Skip to Content
Proper Drainage is key to protecting your foundation
Poor drainage around your home can cause excessive seasonal foundation movement including heaving. If your foundation heaves, it may be necessary to install a surface drain, a French drain, or a combination of both. Structured Foundation Repairs will develop a customized solution that is specific to the needs of your home.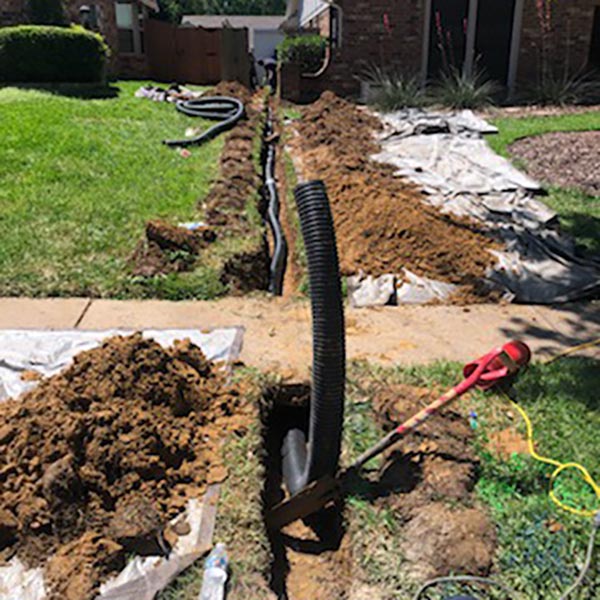 Surface Drainage System
A surface drainage system typically includes 9 inch by 9 inch or 12 by 12-inch area drains and 4 inch flexible PVC pipe. The system is used to collect water at ground level and channel it away from the home. If there is not enough natural grade to allow the water to gravity drain away, it may be necessary to install a sump pump system. 
Why would I need a surface drainage system?
All homes require proper drainage. Homes that have poor drainage can heave. (i.e. if water ponds within 4 feet or so of the foundation after watering or rain) This heaving of the foundation causes stress to both the foundation and structure.
French Drain
A French drainage system is a trench covered with gravel or rock that redirects surface and/or groundwater away from an area. A French drain has a perforated hollow pipe along the bottom to capture water that seeps down through the upper gravel or rock. French drains are common drainage systems, primarily used to prevent groundwater from migrating under the foundation. Groundwater under a foundation can cause movement beyond seasonal norms. French drains are also used behind retaining walls to relieve hydrostatic pressure.
Why would I need a French drain?
A French drain is most commonly used to collect and channel groundwater to keep it from going under the home. Groundwater that travels under a slab foundation can cause a foundation to go up and down repeatedly which can cause foundation problems.
Basements in North Texas
While basements are uncommon in North Texas they do exist. Because basements and sunken rooms are below grade, they can have moisture issues. Structured Foundation Repairs will evaluate the property to provide practical solutions to address customers' waterproofing needs.
OUR MOTTO IS "DO THE RIGHT THING"