Skip to Content
What You Need to Know About Slab Foundation Repairs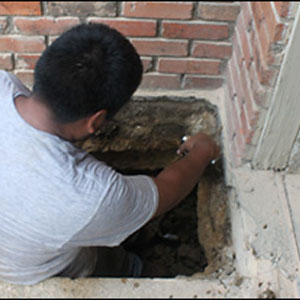 Things You Should Know About Slab Foundation Repairs
Foundation settlement and movement can be caused by building on expansive clay, compressible or improperly compacted fill soils, or improper maintenance around foundations. Environmental factors are also key. Structured Foundation Repairs, Inc. offers slab foundation repair to correct foundation issues in Dallas and Fort Worth.
Slab Repair Options
To repair your foundation, a set of either concrete pressed pilings or steel pressed pilings are used to restore the grade beam to the proper level. Concrete pressed pilings are the most commonly used material in foundation repair. They are comprised of cylinders six inches in diameter and 12 inches in length made from pre-formed concrete. Steel pressed pilings are made from double-walled steel pipe, which offers more effective foundation repair in areas with sandy soil. This option also provides better stability in areas that have stringers of harder material between levels of clay soil.
The Slab Repair Process
Slab foundation repair requires approximately one day to complete but may take longer for more extensive foundation damage. During the repair process, holes approximately two square feet in size and five feet in depth are dug near the areas of your foundation that require repair. A concrete pressed piling or steel pressed piling is placed inside the hole and pressed into the ground using a 40-ton hydraulic ram. Once the piling is in place and able to support the weight of your home without sinking further into the ground, it is capped with concrete and your home is lifted into place. The proper foundation height is achieved using steel shims as needed, and the holes are filled to restore the look of your yard.
A damaged foundation can spell trouble for your home. Call Structured Foundation Repairs, Inc. at 972-484-1200 to find out more about commercial and residential foundation repair in the Dallas-Fort Worth metroplex. You can learn how to spot foundation trouble and the need for repair by clicking through our blog.
OUR MOTTO IS "DO THE RIGHT THING"