Skip to Content
Announcing the New Website for Structured Foundation Repairs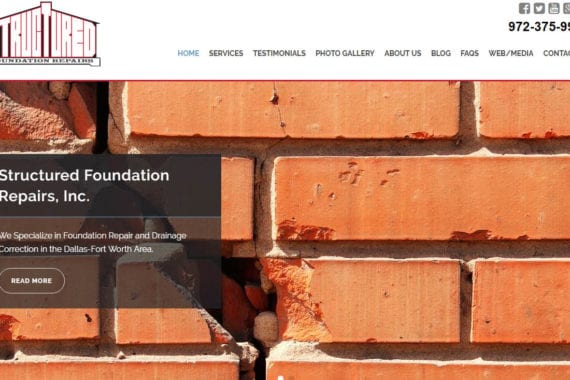 Structured Foundation Repairs – Announcing the New Website
Structured Foundation Repairs Is Taking The Next Step
The Structured Foundation Repairs family structured Foundation Repairs Homepage has been serving the Euless area for many years and comes highly recommended-having even won the Angie's List Super Service Award several years in a row. Now Structured Foundation Repairs is taking the next step in innovation and announcing the newest member of the Structured family: a brand-new website, which can be found at www.structuredfoundation.com.
Although they specialize in slab and pier foundation repairs, Structured Foundation Repairs offers many services, such as slab foundation repair, pier and beam foundation repair, and drainage correction.
Slab foundation repair generally takes no more than a day. This serves several different benefits, the first of which is to keep costs and time down. Another benefit of this is that any plants that must be moved in order for the repair to happen will be given a fair chance at survival. Two different ways for slab foundation repair exist; concrete pilings and steel pilings. Each step will be explained to you, demonstrated even, as they are performed. Step-by-step instructions are provided on the new website if you care to follow along there as well.
Pier and beam understructure shimming and wood replacement will replace the supporting beams underneath your house and above the foundation. Sometimes, when those beams get old, they can rot or be attacked by termites, or any number of things. When this happens, Structured Foundation repairs will crawl below and fix them. This work even comes backed with a One Year Transferable Warranty!
Drainage correction is another service proudly provided by Structured Foundation Repairs. The most common type of drainage correction is the installation of a French drain, a trench covered in gravel or rock that drains water away from a certain area. This is an easy way to drain groundwater.
Every project with Structured Foundation Repairs comes with a fast and free assessment to start you off. With their new website, contacting them is a snap. No phone calls are required, no office visits are required, just fill out the contact form located under "contact us" on their website.
About Structured Foundation Repairs:
Structured Foundation Repairs is a company in Euless, Texas, specializing in pier and slab foundation repairs. They offer warranties on many of their services. Structured Foundation Repairs is committed to holding high professional, ethical, and moral standards. Three years in a row, Structured Foundation Repairs won the Angie's List Super Service Award (2012-2014), and their customers rave about them, especially the way that they explain every step of the process before completing it, thereby keeping the customers involved every step of the way.
Run by professionals with twenty-plus years of experience each, Structured Foundation Repairs is always ready and willing to tackle jobs, big or small, with a smile on their faces. Their kind, quality, professional, affordable services make the houses in Euless safer and the people of Euless happier.
Contact Information:
Address:
Structured Foundation Repairs
13301 Trinity Blvd #133
Euless, TX 76040
Phone: 972-484-1200
Fax: (972) 484-1215
OUR MOTTO IS "DO THE RIGHT THING"