Skip to Content
Warning Signs of Foundation Failure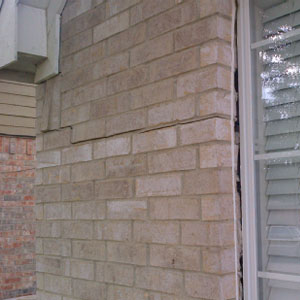 Recognizing the Early Warning Signs of Foundation Failure
Foundation failure can strike any home. In fact, if you live in one of the many regions that have expansive soil, your risk of experiencing some kind of foundation failure may be as high as 60%. By recognizing the early warning signs of failure and acting quickly to make repairs, you can significantly reduce the cost of saving your home's structure.
If your foundation is failing, you will notice changes both inside and outside your home. On the exterior, keep an eye out for separation around your windows and garage door, cracked bricks, or displaced moldings. Inside, cracked sheetrock and cracks in the floor are important indicators of a foundation shift. You may also notice that your doors and windows won't open properly or close securely. Of course, visible cracks in the foundation itself are always signs of trouble.
Any time you notice any symptoms of foundation failure, call Structured Foundation Repairs, Inc. We can come out to your property, examine your foundation, and give you a free estimate for repairs. Don't let foundation problems fester. Call us at 972-484-1200 and schedule your foundation repairs today!
OUR MOTTO IS "DO THE RIGHT THING"